Upcoming Events
ERIK SANTOS & ANGELINE QUINTO LIVE IN TORONTO!
October.7.2016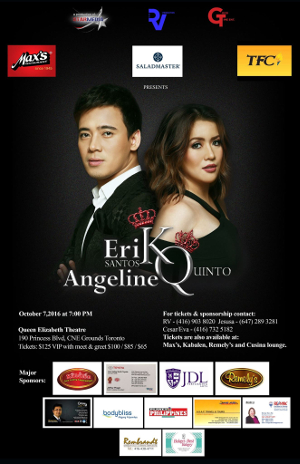 RV Production and Good Time Ent present: Erik Santos & Angeline Quinto Live in Toronto.
Date: October 7, 2016 at 7:00 pm, Venue: Queen Elizabeth Theatre 190 Princess Blvd. CNE Grounds, Toronto
Ticket Price: $125 (VIP with meet & greet); $100; $85; $65
For inquiries contact: RV 416-903-8020; Jesusa 647-289-3281; Cesar/Eva 416-732-5182. Tickets are also available at: Max's Restaurant, Kabalen, Remely's and Cusina Lounge
SINGPILIPINAS TORONTO
November.12.2016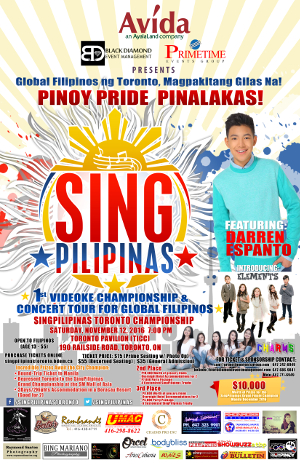 Avida an AyalaLand Company, Black Diamond Event Management and Primetime Events Group proudly present: SingPilipinas Toronto!
SINGPILIPINAS TORONTO CHAMPIONSHIP WITH SPECIAL GUEST ARTIST: DARREN ESPANTO LIVE ON: Date: Saturday, November 12, 2016, at 7:00 pm, Venue: Toronto Pavilion (TICC), 190 Railside Road, North York, ON (Don Mills and Lawrence)
TICKET PRICES: $75 (Prime Seating with Photo Op), $55 (Reserved Seating) and
$35 (General Admission - first come first served seating)
TICKET & SPONSORSHIP CONTACT:
SANI 647-242-6949 / BELINDA 647-686-9841 / MELO 647-771-6949 or EMAIL: sani@primetimeeventsgroup.com / belinda@blackdiamondeventmanagement.com
For more info follow us on FACEBOOK
JULIE ANNE SAN JOSE: IN CONTROL CANADA TOUR 2016 LIVE IN TORONTO
December.3.2016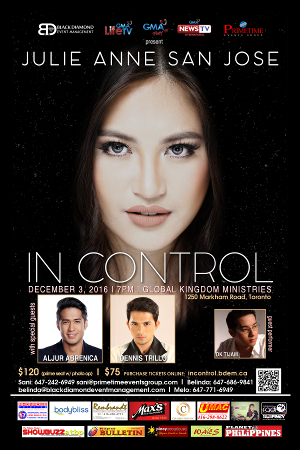 Black Diamond Event Management and Primetime Events Group proudly present: JULIE ANNE SAN JOSE: IN CONTROL CANADA TOUR 2016 LIVE IN TORONTO! with special guests: Aljur Abrenica and Dennis Trillo
Date: Saturday, December 3, 2016, at 7:00 pm, Venue: Global Kingdom Ministries, 1250 Markham Road, Toronto, ON
TICKET PRICES: $120 (Prime Seating with Photo Op), $75
TICKET & SPONSORSHIP CONTACT:
SANI 647-242-6949 / BELINDA 647-686-9841 / MELO 647-771-6949 or EMAIL: sani@primetimeeventsgroup.com / belinda@blackdiamondeventmanagement.com